Type of Pool:
Above Ground, Vinyl Liner
Equipment Used:
LeakTrac 2400,  Dye Testing Cones, Pressure Testing Equipment
Situation:
Pool owner noted water loss of 1.5" per day and hinted that they thought the liner needed some patching.
Solution:
Since the LeakTrac 2400 can pinpoint liner leaks in above ground pools too, we started by doing a liner scan. It can be a little harder to find a good ground source on above ground pools, but at this pool we were able to attach to the steel wall, which gave us a great connection.   We promptly located and patched a small liner leak under the ladder. It didn't seem to be big enough to be responsible for 1.5" per day of loss, so we kept looking.
Since the liner was eliminated from being a source of water loss with the LeakTrac, we set up the Dye Testing Cones to do a static dye test of the plumbing, which revealed a potential leak in the return line.  A failed pressure test of the return line confirmed it was leaking.  This was sort of peculiar since the line was primarily visible and dry.  Once air was induced, we noticed it  bubbled up through the rocks in the short area the line was actually underground. In a little over an hour we had found and patched the liner leak and pinpointed the pipe leak.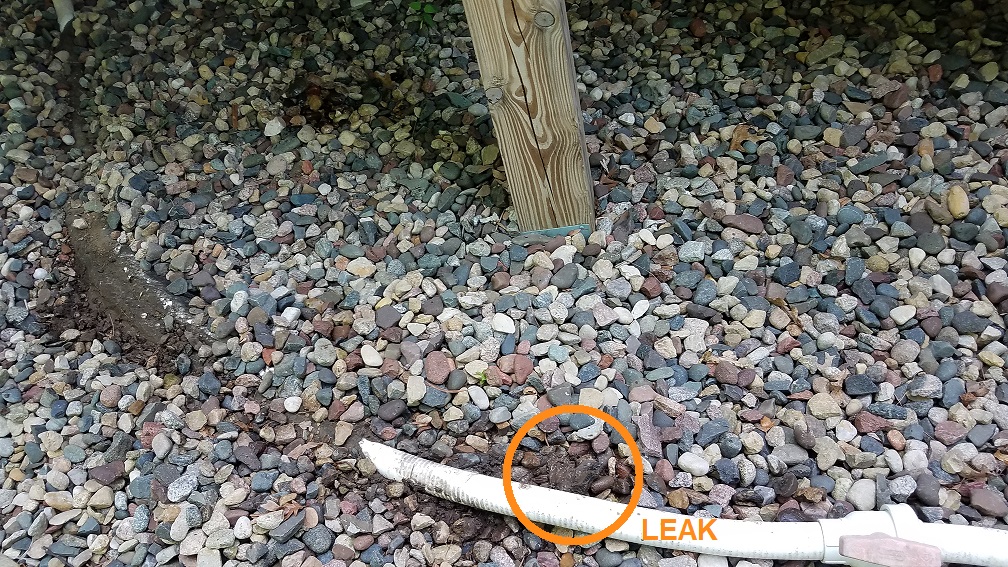 Highlights:
The LeakTrac 2400 works great on above ground vinyl liner pools, you may just have to get creative with your ground connection.
It's easy to pinpoint leaks in pipes that are close to the surface, just keep your eyes open!