Type of Pool:
Vinyl / Indoor
Equipment Used:
LeakTrac  2400, Leakalyzer, Dye
Situation:
Customer told us that pool leaked down to 1" above the skimmer pretty quickly, then seemed to hold at that level.
Solution:
When we arrived at the job site we started our Leakalyzer test with the pump on which confirmed the water loss. After turning the pump off and marking the current test, we could see that the slope of the line continued to be the same as during the pump off test.  Because of this we suspected a shell leak. Our observations of the pool equipment and plumbing system validated that the plumbing didn't appear to be the problem.
Since a shell leak was suspected we began systematically dye testing the pool from the deck. By doing so we were able to find a crack in the skimmer bowl at the same level the customer indicated the pool water level held at. The size of the crack seemed consistent with what the customer and Leakalyzer indicated the water loss would be.
We then patched the skimmer with the Leakmaster Pool Glue Kit, which is adheres very well to the skimmer bowl and works underwater.  After the patch we ran another Leakalyzer test to verify that the pool had stopped leaking. Although not as much as the first time, the test still showed water loss that was more than estimated evaporation.
With additional dye testing we quickly found another small leak in opposite skimmer. That leak was patched with Quick Set Putty.
We ran yet another Leakalyzer test and found the pool was losing less water than before, but still losing.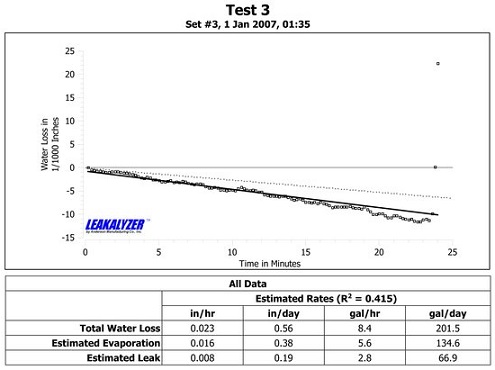 We finished checking fittings and gaskets with dye and then pulled out the LeakTrac. The LeakTrac was able to pinpoint one hole in the liner and eliminate the rest of the liner as a suspect area. Leakmaster Flexible Sealer and Leakmaster Peel and Stick Vinyl Pool Patches were used to patch the leak in the vinyl liner.
The water level was a little too turbulent after patching to get a great Leakalyzer test, but we spoke with the customer one week later and pool was not losing water.
Learnings:
The Leakalyzer helped us make sure all the leaks were found before leaving the job, instead of just finding the first one
Dye testing is really fast and effective
Gathering good information from the customer shortened the leak detection process