Type of Pool:
Vinyl
Equipment Used:
Situation:
We were called to help out with an outstate pool that had a pesky leak causing between 1 and 2 inches of water loss per week. This pool had an auto cover which needs to be supported for the winter so it was important that the pool shell was leak free before winterizing the pool.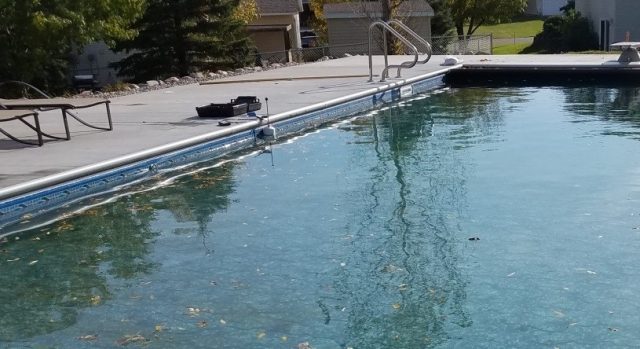 Solution:
When we showed up the pool was very cold and had wrinkles everywhere, making it tough to identify suspect leak areas… the whole liner was a suspect! Once we got our initial Leakalyzer test going we immediately pulled out the LeakTrac 2400 to start scanning the liner from the deck. We quickly found a leak in the center of the pool – a place that would have taken hours and hours of cold water diving to find without the LeakTrac. The LeakTrac didn't pick up any other leaks, so we knew the rest of the liner was good. We suited up in a dry suit and quickly patched the leak.
Once the leak was patched we ran a final Leakalyzer test to confirm the water loss had stopped. The pool owner was grateful for the peace of mind of going into the winter leak free with a supported auto cover.
The LeakTrac 2400 has made locating vinyl liner leaks so easy that these jobs tend to get overlooked as we are looking at case study content. As the water got colder this fall we were reminded how valuable this tool really is!
Highlights:
The LeakTrac 2400 is an invaluable tool for locating vinyl liner leaks, especially when dealing with a wrinkled liner and cold water.
Since auto covers can collapse if a pool loses water during the winter, the Leakalyzer is a great tool to give customers peace of mind that their pool is not leaking before closing it for the season.