Pipe Inspection Cameras for Swimming Pool Use
The digitalization and resulting miniaturization of cameras over the past years has led to a proliferation of inspection cameras for all types of uses.  There is great benefit to being able to "get into" and see areas that have previously been inaccessible. Pipe inspection has been a major area of application and product development for this technology.
Naturally, because of the prevalence of underground plumbing, there is great interest and intrigue in applying this technology to the swimming pool industry.  Indeed, an inspection camera may prove to be an important part of your equipment arsenal for finding leaks and other related problems.   As you consider an investment in the wide range of options available, it's important to consider the unique characteristics of pool plumbing and the types of problems you're looking for, as well as establish a clear expectation of the real benefit and usefulness they will provide to your business.
One Length Does Not Fit All
Many leak problems can be identified within the first several feet on an access point. In these situations, affordable fiber optic technology can be applied to the problem.  The Rigid Inspection Scope comes with a 3 foot flexible extension that allows you to get into easy to access small openings.  Range can be extended with optional 3 foot extension (providing up to 6 feet of reach).  Inspection Scopes are great for looking inside return fittings, skimmer throats, and light niches without having to get into the pool.  Extension tubing for dye testers can be taped to the side of the extension with the tip extending in front of the camera in order to dye test in these hard to reach spots.

If you want to go further than the first several feet into a pipe you will have to add a Camera/Push Rod system to the Inspection Scope.  These robust systems have become a staple item in the plumbing, sewer, and municipal industries.  Their use on swimming pool plumbing, however, offers certain challenges.
Pool Plumbing: A World of Small Pipes and Lots of Corners
The first thing to consider about pool plumbing is that relatively speaking (at least in terms of where most pipe inspection cameras are used),  it is on the very smallest end of range most cameras can be used on. Pushing a camera into this small pipe, especially around elbows and T's presents problems.  Bruce Roache of CT says that in 1 1/2″ plumbing his Rigid Micro Camera is "great on straight runs and can reliably get through the first 90 degree bend, but it has been so difficult to get past a second 90 degree corner that I don't do it anymore for fear of getting it stuck or damaging it as I pull it out."  Christine Pearson of Excaliber Leak Detection in MD uses her Rigid Nano extensively and can get it through more than one elbow.  But she admits that even this device can be damaged when pushed too far.  "If you are hoping a pipe camera will enable you to quickly inspect an entire plumbing system you will be disappointed. A camera won't replace other methods of detecting and locating leaks in the plumbing.  But, if you want clear evidence of problems in the areas it can reach, the images and video it provides can't be beat."  Actually being able to see things like big leaks, obstructions in the line, and crushed pipe can help determine the cause and repairability of the problem, and communicate clearly with the customer.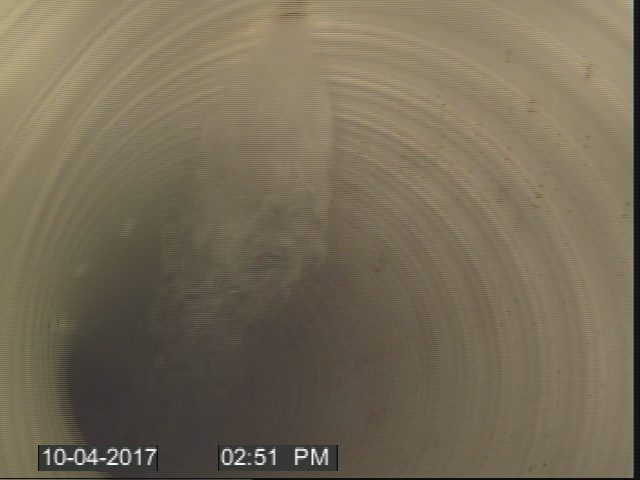 While small PVC pipes with elbows and T's can pose problems, straight runs and flex-pipe are prime applications for a Camera/Push rod system.  "It is awesome in flex-pipe," says Roache.  "Although I think flex-pipe is terrible, it is very common in my area.  Nothing is more convincing to a customer, pool builder, or building inspector than a live video image of the leak, the problem, or the building code pass/ fail issue!"
"We use it extensively on flex-pipe," says Christine.  "It's especially useful on skimmer lines where we can show evidence of the damage chlorine tablets in the skimmer basket produce, or even see bubbles being pulled through a leak while the pump is on."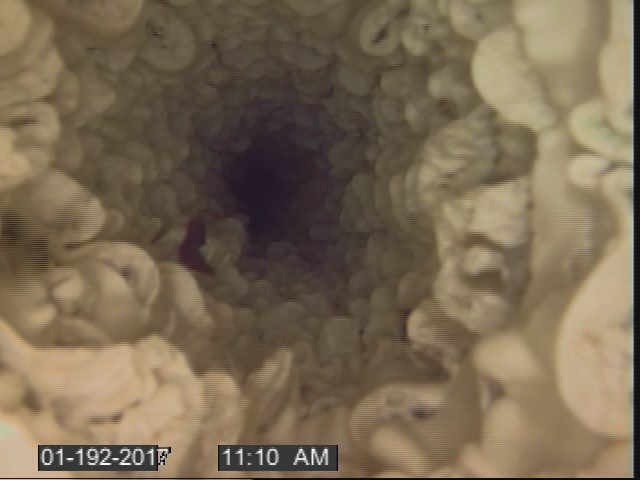 You Found the Leak, Now Where is the Camera?
Once a problem has been found with a camera, determining its location on the deck so a repair can be made is the next step.  Depending on how far in you've pushed the camera, and your knowledge of where the lines run, you may be able to estimate the location.  Otherwise, you're going to need to invest in one more piece of equipment.  A line locator detects a radio frequency signal emitted by a transmitter built into the camera head.  The line locator will enable you to determine location, direction of run, and depth of the pipe.  These devices can also detect signals in conductive pipes, tracer wires, electrical lines, or battery operated transmitters that aren't incorporated with the cameras.  For many pool leak specialists, adding a camera and line locator to their tool arsenal has been the catalyst to expanding their business into other lucrative location/inspection markets.
A Note on Purchasing Equipment
Once you have decided whether an inspection camera and scope system is a worthwhile investment, there are a lot of options out there for purchasing .  A quick search on the internet will reveal a multitude of devices at all levels of sophistication, quality and country of manufacture.  Because swimming pool use can be hard on cameras (pushing and pulling them through sharp 90's) don't compromise on quality.  We distribute Ridgid products because we feel most comfortable with their experience and knowledge of the swimming pool industry.  Ridgid has also proven to be responsive when repairs are needed.  Please feel free to contact us if you have any questions.