Did you know that you can crop data in the Leakalyzer reporter program to make your reports clearer and more accurate? While seeing how the graph responds to a variety of environmental factors is helpful most of the time, there may be situations where an otherwise good test goes awry. Say a diver gets in the pool toward the end of a test and causes the water level to rise, but you still want to be able to include the test in a report for the homeowner. To avoid confusion you can remove the affected data from the .TXT file before it uploads into the reporter program. Here's how it's done.
Below is a good, clear test but it wasn't stopped before a diver got in the water at the end of the test to make a repair. You can see the sharp rise and drop toward the end of the test – this is the portion we want to cut out.
The same test in the Leakalyzer reporter program is below. Note that the detail information is inaccurate due to the surge when the diver was in the water.
To create a reporter file without the misleading data at the end you can cut those data points out of the .TXT the Leakalyzer creates to upload the tests.  Open the .TXT file, which should look similar to below: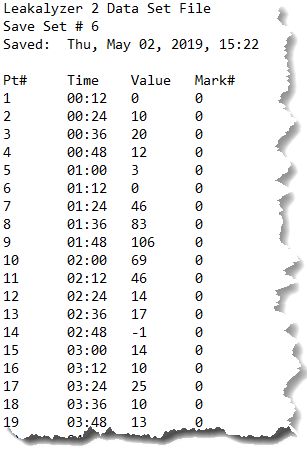 Find the points that correspond with the data you don't want on the test and simply delete and re-save.  The portion below is what was deleted from the test: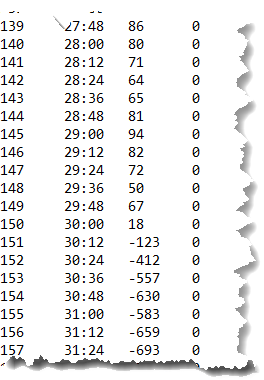 Save the new text file and import the updated version into the Leakalyzer Reporter Program. This will produce a much more accurate report of the water loss in the pool.  This is what the report looks like after the data was cleaned.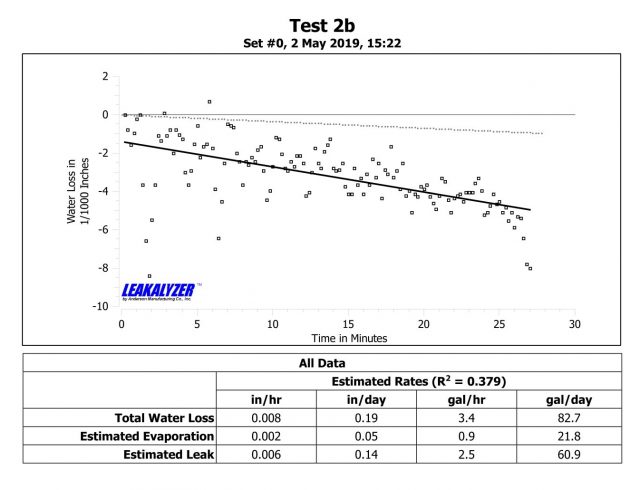 The estimates for inches per day and gallons per day are now more accurate and the graph is more indicative of what was actually happening to the water level of the pool.