As the popularity of no-drain winterizing grows, it's no surprise that there are new plugs to facilitate this process on the market. To help you understand how to evaluate these options, we set up a simulated pool plumbing system and tested the Duck Plug against our primary competitor's blow-through plug. The tests were designed to imitate three key elements of the blow-out process and each test was performed using the Big Blue Blower. Check out our findings!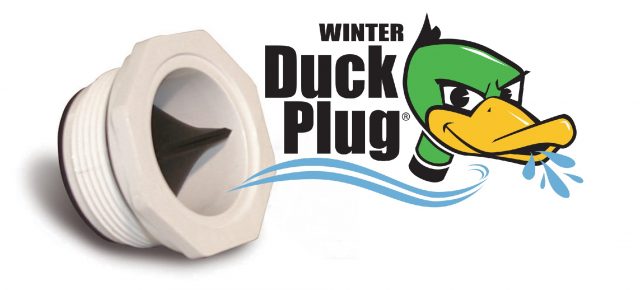 Water Purge Rate
At the initial stages of the line purging process 2-5 lbs of pressure is required to push water from the lines. During this phase Duck Plugs purge lines more than twice as fast as competitor's plugs because the duck billed valve opens to a much larger unobstructed aperture. The competitor's plug does not even open at lower pressures. This is especially a problem if using a lower performing blower and/or when some lines start blowing air and back pressure is reduced for the remaining filled lines.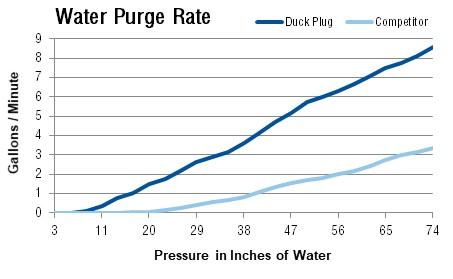 Air Flow
Because Duck Plugs open to a larger aperture, and do so at lower pressures, they also allow substantially more air flow as lines begin blowing air. Air flow is important to clear all water from lines even in low spots. As more lines begin blowing air, the flow rate increases at the main line (trunk) but decreases at each spur (branch). To increase flow at spur lines, Duck Plug valves can be easily blocked with simple paper clasps whereas competitor plugs have no way of being blocked.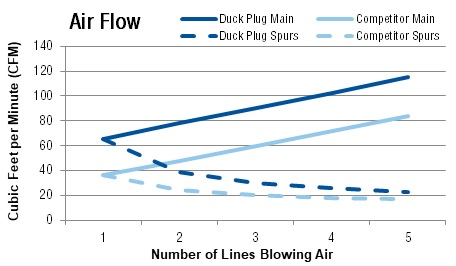 Back Pressure
The lower flow rate of the competitor's plug creates a higher back pressure during the clearing stages of the process for a longer period of time. The blower therefore labors harder and longer to clear lines. This will cause the blower to heat up faster and wear out sooner.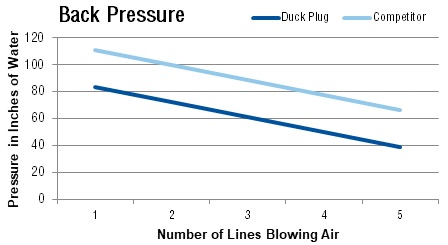 Seal
A final important difference was noted consistently during testing. The competitor's plug slowly leaked water back into the purged line after the blower was turned off.  This resulted from the conical seal being pulled back into the funnel shaped opening at a slight angle. Duck Plugs, on the other hand, have been tested in thousands of pools over the toughest of winters without any known case of valve failure.

Want to see the Duck Plug in action? Check out this video to see for yourself how Duck Plugs and the Big Blue Blower work together to clear plumbing lines quickly and effectively.