For over 15 years this luxury pool located in downtown St. Paul, MN was left unused due to extensive leak issues that affected tenants three floors below the pool. This pool is located a top a luxury condominium tower and was completely drained due to the water damage it was causing. The pool is a beautiful 24 ft. X 44 ft. pool with "scum-gutter" skimmer system, but for the past few years tenets have grown angry that this relaxing spot has been completely unused.
Numerous easy to locate leaks were found and repaired.  However, the skimmer system continued to leak aggressively when water was added to bring the water level above where the skimmer met the edge of the concrete pool. This leak was because the precast skimmer blocks that sat on the poured concrete pool had gaskets that deteriorated over time.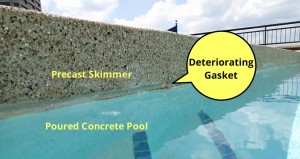 Quality Pools of Minnesota used Leakmaster™ Injection Foam from the Crack Repair Starter Kit  to repair the leaks that extended around the perimeter of the pool.  This product was chosen specifically because of its expandable nature.  Injection Foam will expand 20 to 30 times its volume and force itself into all sorts of small cracks sealing them off from the backside of the pool.  This closed cell foam is water proof and would help seal behind the gasket in spots that were not visible from the pool.  This added waterproofing was extremely important due to the condo units below.
Small injection holes where drilled at apx. 1 foot intervals through the skimmer blocks. Injection ports where than attached to the surface using Leakmaster™ Peel-and-Seal Surface Seal Epoxy.  Over 5 cases of foam was then injected through these ports to fill and seal the void beneath the blocks.  Here are a few pictures that demonstrate how the non-water penetrating foam sealed even the smallest and most elusive of holes.
Small hole between skimmer and concrete pool
A series of large and small holes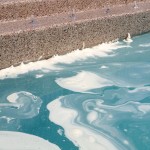 Another elusive small hole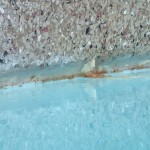 After injecting the foam and allowing it to set up, the injection ports were removed leaving little residue since the Seal-n-Peal product can be cleaned off with a putty knife.
After the foam residue was skimmed off the water's surface, and a few cosmetic touches were made to the joint between block and wall this pool was back in use, saving the owner thousands of dollars in concrete repairs.